We're proud to announce that from 2018 season, we'll be sporting a brand new away shirt.
Our person on the inside was able to snap some sneaky pics of the shirts before being released to the masses.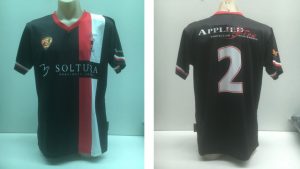 A huge thanks Chris West, Sean Hammill and Tim Watt who are kindly sponsoring the shirts and who's logo's will appear on the front, rear and sleeve.
These local businesses are:
Applied Fire Protection & Maintenance
Sean Hammill – Director
Sponsors of 45's football kit and 2018 Away Shirt
Gibber
Tim Watt – Director
Sponsors of C's football kit and 2018 Away shirt.
Soltura Specialty Coffee
Chris West – Director
Sponsors of Bs football strip for 2017 and 2018 Away shirt
The committee are also working on designs for a new batch of socks and shorts for the upcoming season though, as we say at Barnstoneworth… "Shorts Don't Matter!"