What you are about to read may change your life. Do not adjust your set, but do pay attention because there will be a test at the end.
If you had been there for the pre-match briefing (and frankly, why weren't you? Did you have something better to do than stand about in thin mountains-issue drizzle listening to OGL berate us into something resembling match readiness? Count your manhood cheap you were not there!) you would, no doubt, have been as inspired as we were to step up and change what had become an all too familiar pattern – turn up each week, try hard but go home with no points and a vague sense of cosmic injustice. But no more! Armed with a full strength squad, a subs scheme that made the TPP look like it was written by a five year old, and a sense that maybe, just maybe this was our moment, we trotted out onto the field to face the Mountains team – a team who we hadn't beaten for well over a year, but to whom since then we had only lost narrowly. And a team who are usually pretty decent fellows (unlike Another liVely bunch Of ChAps I won't mention).
The whistle went and we charged into battle like we knew what we were doing. There was from the start noticeably more energy about our team, and for a change lots of talk amongst our players – instead of the usual infrequent and vague motivational shouting ('Come on!', 'Mark up!' and 'Just WIN!'), we resembled more the Parliament at question time, though without the endemic financial corruption. We exerted fairly constant pressure, and actually had the ball in the net after only about 10 minutes when Kent connected with a through ball and put it past the keeper, though sadly it was disallowed for offside… a decision about which I shall keep a dignified silence.
But on we pressed and our reward came only a few minutes later when a near identical ball was this time picked up by Tim, who removed any monkeys that may have taken up residence on his shoulders in recent weeks by calmly slotting it home. Claims for offside this time were treated with appropriate disdain by the ref and suddenly we were in front – yes, we didn't know what to do either, and for a few minutes, with the subs coming thick and fast, there was a bit of disarray across the park. However, we weathered the brief period of Mountains pressure, and with some shouted organisation from both the Della and Adey schools of motivation (the Aussie and English attitudes to life in microcosm right there) we recovered our shape and held our lead. In fact we extended it a few minutes before half time after a mighty goal kick from Pierre found Tim who was able to turn and score – that's Pierre's second assist of the season and his first from between the sticks. Strong work. Half time arrived and with it the most upbeat team talk I think OGL has ever given. The take home message was clearly (and I'm paraphrasing here) 'Nice work but don't fuck it up now'. Sage words indeed.
Out we went for the second half. From the off it was clear the Mountains weren't going to give up without a fight. They had the best of the pressure for the first 10-15 minutes, with a couple of threatening breaks and dangerous crosses. Thankfully our stout defence held true, with particularly strong work from Payney and Harry, reminding us all of a certain wizard on a bridge and his views about who was allowed past. Then this happened : a Mountains corner from the left came high across the area unchallenged, and the ball went so far out it would have required planning permission to retrieve it, so we all stopped…but the Mountains players didn't, one of whom had clearly mortgaged his immortal soul, headed the ball back in from a position both morally and physically dubious, and bang! Another one headed it in past our static defence and goalkeeper and suddenly it's 2-1. Much indignation and remonstrating with the ref followed, and if this had been an Enid Blyton story the ref would have seen sense, changed his mind and had a forceful but kind word with the Mountains players about the dangers of degrading their moral fibre, but this ain't fantasy land and down here in the dirt and clamour of combat you PLAY THE WHISTLE or you lose.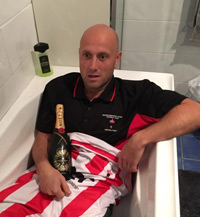 There then followed a panicky few minutes as we were rattled and the Mountains players clearly sensed they could get something out of the game. However, more strong defending and robust work in midfield kept the pressure up, and relief came only a few minutes later after a lovely ball from Leigh out of midfield to the right was collected by Tim, who did well to outwit a couple of defenders and put over a high cross which was headed into the net by Kent – surely the champagne moment of the game, made doubly so by Scotty's brilliant observation 'IT'S LIKE A PROPER GOAL!!!" 3-1 up with 12 to go, and they were a nervy 12 minutes to be sure, with a goalmouth scramble at our end and a few other attacks justly repelled by our defence, but we held on for the win. Yes you read that right, WE HELD ON FOR THE WIN. The final whistle was greeted with exclamations of joy across the coast, and a sporting acknowledgement by the Mountains players that we had deserved the victory. Three glorious shiny beautiful points. Clearly on the day we wanted it more, we were better organised, particularly with the subs, and we worked hard for each other. A strong effort by the whole team was reflected in the spread of player's points after the game, with Men of the Match shared between Jon and Payney, with Kent in second, and third place again shared by Tim and Harry. It's true that today the world looks a little brighter, flowers are a little taller, and the smiles on people's faces are a little more genuine.
And by the way, we did play Umina last week, but we lost that one 2-1 so nobody really cares. And I'm kind of bored with writing about defeats, so there.
And were you paying attention ? Which team won the match between Barnstoneworth 35Cs and some other team on Saturday 3rd June 2017 ?
a) Barnstoneworth
b) Barnstoneworth
c) Barnstoneworth
Smells like…Victory.
Final Score: Mountains 1 – Barnstoneworth 3